INFORMATION | HISTORY | STAINED GLASS WINDOWS | MEMORIAL TO THOSE LOST AT SEA | FUNDRAISING
Saint Colman's Church, Inishbofin, Co. Galway
<![if !vml]>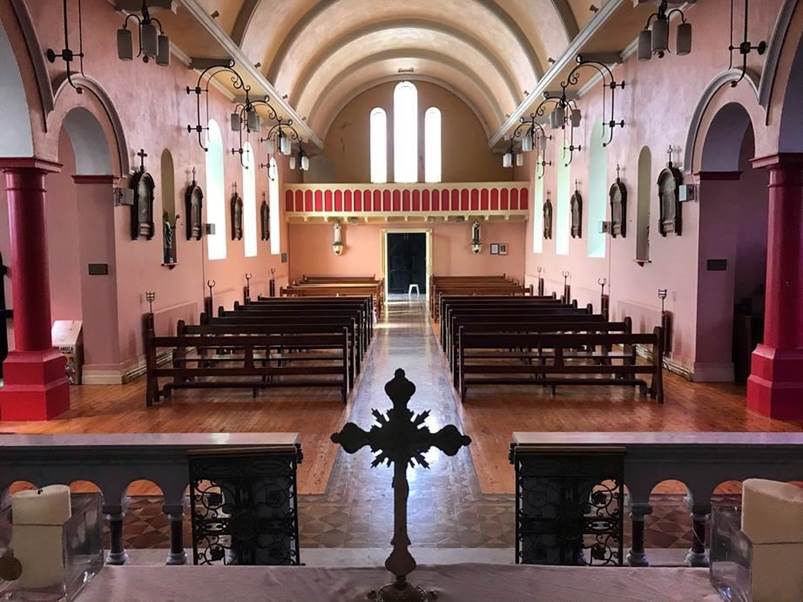 <![endif]>
INFORMATION
Inishbofin is in the Archdiocese of Tuam.:
Archbishop: The Most Reverend Michael Neary
Administrator: Fr. Anthaiah Pudota.
Sacristan: Gerry Moran
Pastoral Council: Michael Joe O Halloran, Aileen Murray, Gerry Moran, George Lacey.
<![if !vml]>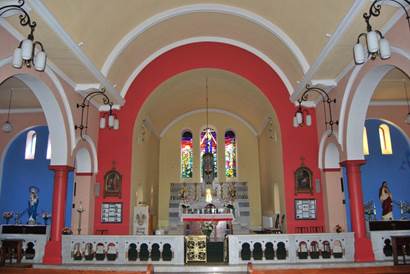 <![endif]>
HISTORY
St. Colman's Church stands on the north shore near the top of Bofin harbour, with a view all the way west to Inishark from its west door. The same west door, when just visible, from the harbour, to the north of Dooneen, marks the safe passage to the north of Bishop's Rock near the harbour mouth. The legend of Bishop's Rock speaks of a much darker time in the religious history of the island. 
Work started on Saint Colman's Church on September 8th 1910 and was completed in 1913.  Built on the site of an older church that was demolished in 1910 to make way for it, St. Colman's took just over 3 years to build at a total cost of £3,091, including £840 for the demolition of the old church.
The building project was initiated by Fr. William Rhattigan, with the help of the English Catholic  landlord, Cyril Allies, and the parishioners of Bofin and Shark. Fr. Rhattigan was succeeded on his retirement by Fr James A. Coyne, who supervised the completion and paid off the remaining debt on the church during his tenure. Michael Gillooly from Roscommon was the clerk of works who oversaw the construction.
The design for the church was brought by Fr. Rhattigan from America and adapted to suit its island location by the architect, Mr. Butler (Rudolf Maximilian Butler). The plan of the church, a Romanesque cruciform design, consists of a single aisled nave, two transepts, an apsidal chancel, a baptistry, a sacristy, an organ gallery and a heating chamber.
It is the fourth house of worship on the island. The ruined circa 14th century church in the graveyard having replaced Saint Colman's original abbey and our current church built on the site of the old church it replaced.
 A dedication ceremony and solemn high mass was held on September 2nd 1913, led by Rev. Dr. Healy, Arch-Bishop of Tuam, aided by Auxillary Bishop Michael Higgins and 9 priests, quite a spectacle for the parishioners of the day and an event not witnessed on Bofin since the days of St. Colman himself in the 7th century. The prelates also confirmed about 60 children after the high mass.                                                                                                                                                   
Inishbofin in the Annals
<![if !supportLists]>· <![endif]>668 - Colmán of Lindisfarne founds the monastery of Inis Bó Finne.
<![if !supportLists]>· <![endif]>675 - Death of Colmán of Lindisfarne on Inis Bó Finne.
<![if !supportLists]>· <![endif]>711 - Baetan, Bishop of Inis Bo Finne, died.
<![if !supportLists]>· <![endif]>755 - Mael Turaig, abbot of Inis Bó Finne, rested.
<![if !supportLists]>· <![endif]>795 - The plundering of Í Coluim Chille, and of Inis Muiredaig, and of Inis Bó Finne.
<![if !supportLists]>· <![endif]>898 - Caenchomhrac, of the caves of Inis Bo Finne, died.
<![if !supportLists]>· <![endif]>809 - Blathmac of Inis Bó Finne, died.
<![if !supportLists]>· <![endif]>916 - Abbot Feardhach of Inis Bó Finne, died.
PRIESTS OF INISHBOFIN 1800 – Present
| | |
| --- | --- |
| Two Friars serving from Ballinakill  | 1800- 1825 |
| Rev Redmond Martin McFadden (died of Cholera)   | 1834 |
| Rev Duffy serving from Ballinakill         | 1825 |
| Rev McNamara serving from Ballinakill     | 1825 |
| Rev Moore serving from Ballinakill             | 1825 |
| Rev Flannery serving from Ballinakill          | 1825-1847 |
| Rev Thomas McManus serving from Ballinakill  | 1847-1850 |
| Rev Tom Mc Donagh | 1855-1861 (First resident priest) |
| Rev Tom Mc Walters  | 1861-1864 |
| Rev Pat Loftus    | 1864-1867 |
| Rev Pat O'Connor     | 1867-1868 |
| Rev John Boyle died old age | 1869-1872 |
| Rev Hubert Finneran serving from Ballinakill      | 1872-1874 |
| Rev Tom Brennan died from fever      | 1874-1877 |
| Rev Thomas Hosty                       | 1877 |
| Rev John Healy | 1877-1881 |
| Rev James Rabbitte | 1881-1884 |
| Rev Martin Colleran | 1884-1886 |
| Rev John J Corcoran | 1886-1889 |
| Rev Michael McHugh | 1889-1892 |
| Rev Ned Lavelle  | 1892-1895 |
| Rev John Mylotte  | 1895-1902 |
| Rev Eddie McGough | 1902-1905 |
| Rev James Kelly | 1905-1908 |
| Rev William Rhatigan                     | 1908-1913 |
| Rev James A Coyne | 1913-1916 |
| Rev Thomas Crean-Lynch | 1916-1919 |
| Rev John Neary | 1919-1921 |
| Rev Michael Carney | 1921-1924 |
| Rev John Greally | 1924-1927 |
| Rev John Diskin | 1927-1930 |
| Rev Michael McDonnell | 1930-1931 |
| Rev Tom Varley | 1931-1934 |
| Rev Tom Quinn | 1934-1938 |
| Rev Michael Quinn | 1938-1942 |
| Rev Paddy Gullane | 1942-1946 |
| Rev Paddy Moran | 1946-1947 |
| Rev Tony O' Toole | 1947-1952 |
| Rev Charles O'Malley | 1952-1959 |
| Rev John D Flannery | 1959-1966 |
| Rev Michael Gibbons | 1966-1970 |
| Rev John Walsh | 1970-1973 |
| Rev Martin O'Connor | 1973-1976 |
| Rev Michael Joyce | 1976-1977 |
| Rev Liam Durkan | 1977-1980 |
| Rev John O'Gorman | 1980-1983 |
| Rev Noel Reynolds | 1983-1986 |
| Rev Redmond Lyons | 1986-1992 |
| Rev Paddy Sheridan OMI | 1992-1998 |
| Rev Declan Carroll | 1998-2001 (Last resident priest) |
2001-present (non-resident)
Rev James Canon Ronayne P.P.
Rev Ray Flaherty Adm
Rev Tony Neville Adm
Rev Sean Smith Adm
Rev Ronnie Boyle P.P.
Rev Anthaiah Pudota Adm
Bishop Walter Lynch (Bishop of Clonfert and assistant Bishop of Györ)
Walter Lynch was born in Galway in 1593, the son of James and Apollonia Lynch. He studied theology in Lisbon and Paris, where he was ordained a priest. He earned his doctorate at the Sorbonne and on March 11th 1647, he was appointed Bishop of Clonfert. By June 1651, Cromwell's troops had reached Clonfert and in July 1651 they had taken Galway. Walter Lynch with several bishops escaped to Inishbofin, off the coast of County Galway, which was the last seat of Confederate resistance. On 14th February 1653 they capitulated and according to the article of surrender, the Governor with 1000 troops and all the clergy were allowed to leave.
 Bishop Lynch (exiled in Gyor from the Cromwellian Wars in Ireland) had taken the picture of the Virgin and the Child Jesus with him, when he and several other Bishops were deported to Flanders in Belgium in the 1650's. When he died in 1663, he bequeathed his most precious possession, the painting of the Blessed Virgin and the Holy Child, to the Cathedral in Gyor, where it was placed near the altar of St. Anne.
On St. Patrick's Day 1697, about 6.00 a.m. while Mass was being celebrated and in the presence of many people. Droplets of blood, like sweat, were observed coming from the figure of Our Lady in the painting. When the picture was wiped by means of a fine linen cloth, the sweat broke out again and continued for another three hours until 9.00 a.m. The news spread quickly and crowds, young and old, rushed to witness this phenomenon - this miraculous event. As one observer stated,
"It is impossible to describe the commotion which arose, horror from some, pious fervour from others, but mostly, the desire to see the picture close at hand".
To dispel any suspicion of possible fraud or deception, the Church authorities had the picture taken down from the wall, separated from its ornamental frame, stripped of its stretching laths and finally, closely inspected and shaken. It was found to be free of any natural moisture and the wall where it was hung, was quite dry. Moreover, being detached and held alone over a table, it continued to sweat blood from the eyes; this manifestly constituted something miraculous. The linen cloth, which was used to sponge up the drops of blood and is called a Sudarium, was later placed under glass in a silver frame and it is to be seen in the Cathedral where it is displayed today on the anniversary and on important occasions. It was said by some that the Virgin wept because of the suffering caused by the Turkish occupation of the country and by others that is was due to the sins of the people. But it did take another two hundred years before the Irish connection was revealed.
STAINED GLASS WINDOWS
| | | |
| --- | --- | --- |
| <![if !vml]><![endif]> | <![if !vml]><![endif]> | <![if !vml]><![endif]> |
Kansas Students: Richard Mathes and Edward Moll, two young University of Kansas students on an international Integrated Humanities programme to Galway and Inishbofin, were tragically drowned attempting to return from the Stags Rocks on February 3rd, 1976, a mere 2 weeks after they first set foot on this island.
<![if !vml]>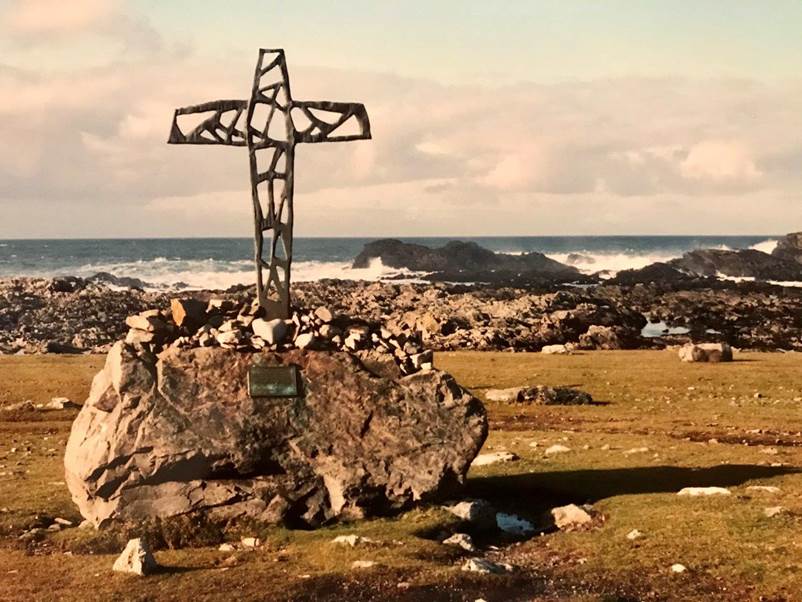 <![endif]>
In June 1997, some of the 1976 students, friends and relations of the two boys (Richard's sister Debbie and her husband Mark as well as Edward's 3 aunts; Gertrude, Martha and Teresa) arrived on Inishbofin for an emotional meeting and reunion. The beautiful John Behan sculpted cross at the Stags was unveiled during this visit and the boys close relatives, on their first trip to the place their dear ones were lost, got to meet and personally thank Andrew Concannon (Deceased) and Michael Joe O Halloran, the two men who found the two bodies 21 years previously.
MEMORIAL TO THOSE LOST AT SEA
Situated inside the small gate at the eastern end of the church grounds, this memorial was erected in memory of all the people of Bofin and Shark who were drowned since the 1800s. The bronze cross was cast by sculptor John Behan. All the work being done by voluntary island labour, the final cost of the materials, cross, engraving etc came to £2700.
The memorial was blessed on May 20th 1997 by Archbishop Neary while on the island for first holy communion and confirmation on that date.
<![if !vml]>
<![endif]>
| | |
| --- | --- |
| <![if !vml]><![endif]> | <![if !vml]><![endif]> |
FUNDRAISING
Due to the falling population, the lack of our own parish priest and the consequent reduction in the number of masses, the church maintenance fund is severely depleted. We depend completely on contributions, voluntary labour and fundraising in order to maintain the building's upkeep, pay for lighting, heating and cleaning etc. The COVID-19 crisis has only served to make matters worse as we are unable to hold any services or ceremonies at all.
You can donate here. All donations gratefully appreciated.
<![if !vml]>

<![endif]>